Comparing Winning Girl & Boy Times at Footlocker & NXN and Other Stuff
by Bill Meylan (TullyRunners ... August 12, 2014)
Recent discussions with several coaches and fans have prompted me to write this article that addresses two issues:
(1) Boy's & Girl's winning time difference at the same meet - Any importance or use in speed rating??
(2) If the Efraimson-Cranny-Baxter race at NXN was the greatest girls' XC ever, why doesn't it have the highest speed ratings??
There is some relationship in these two questions ... and it gives me an excuse to post a table of the Footlocker and NXN winners ... It also gives me a chance to discuss a little about speed ratings

.
Importance of Boy versus Girl Winning Times
The difference between the Boys winning time and Girls winning time at the same meet is an interesting statistic, and I do pay attention to it ... But it plays absolutely no role in speed rating ..... It does give you some information about the races ... In general, the difference between the Girls winning time(s) and Boys winning time(s) at the same meet falls in the range of 2:30 to 3:00 (give or take) ... But it can vary a lot depending on the quality and effort of the individual winners.
Speed ratings are never ever derived from the performance of one individual runner, especially the winner .... Speed ratings measure how fast runners run in relation to each other in the same race and in relation to baseline profiles of other runners of previously-determined speed ratings .... The whole point is to bet money (if we are talking horse racing where speed figures had their origin) ... How fast did this horse (or human runner) run in this one specific race so I can compare it to other horses (or human runners) and compare it to the same horse (or human runner) from its previous races?? (e.g. faster, slower, the same??).
My typical example .... A high school runner goes out and breaks his/her own course record by 30 seconds ... WOW, that sounds really impressive ... BUT in the same race, most other runners run 35 seconds faster than normal on the same course ... All of a sudden, that 30 second course record is not so impressive if using it to bet the rent money ... Real speed ratings measure this accurately, and handicappers who bet real money want to know

.
An individual example ... Consider Edward Cheserek, one of the best high school distance runners of all-time ... Cheserek could go all-out, smash the Holmdel NJ course record (speed rating of 208) or break the course record at Sunken Meadow by 12 seconds at Footlocker Northeast (speed rating of 204 in a backed-off effort) or do a quick tempo run in a typical invitational race (speed rating of 198) .... That's a range of 10 speed ratings points (30 seconds) .... Many individual winners can have significant variability due to competition, how they feel that day and other factors ... That's why one runner can never be used to determine speed ratings .... And besides, speed ratings measure how fast you run relate to other runners and not relative to the course .... Some courses are relatively consistent in speed, and in these instances, speed relative to the course and speed relative to other runners might be the same at times.
Winning Times at Footlocker and NXN Nationals
The rounded Footlocker times in the table below were taken directly from the Footlocker web-site (http://www.footlockercc.com/history/finals.php, "past girls & boys champs by year") ... The NXN winning times were rounded up to nearest whole second) .... The "DIFF" column in the table below is the girl's winning time minus the boy's winning time.
Footlocker has been run on two different courses, (1) Balboa Park in San Diego and (2) the Oak Trails Golf Course in Orlando (I was told the Orlando course in 1981 and 1982 was different) ..... For NXN, I added "who ran first, the boys or girls" (as best as I could find that info) ... It can make difference since the course is commonly muddy (also if the "Open" race mucked-up the course before the championship races).
For reference, my Footlocker speed ratings are available on another page linked here.
Footlocker Winners with Girl - Boy Time Difference
Year
Girl Winner
Time
Boy Winner
Time
DIFF
Course
2013
Tessa Barrett
17:16
Grant Fisher
15:07
2:09
San Diego
2012
Anna Rohrer
17:25
Edward Cheserek
14:59
2:26
San Diego
2011
Molly Seidel
17:22
Edward Cheserek
14:52
2:29
San Diego
2010
Aisling Cuffe
16:53
Lukas Verzbicas
14:59
1:54
San Diego
2009
Megan Goethals
17:07
Lukas Verzbicas
15:07
2:00
San Diego
2008
Jordan Hasay
17:22
Solomon Haile
15:15
2:07
San Diego
2007
Ashley Brasovan
17:20
Michael Fout
14:50
2:30
San Diego
2006
Kathy Kroeger
17:29
Chad Hall
15:20
2:09
San Diego
2005
Jordan Hasay
17:05
AJ Acosta
15:02
2:03
San Diego
2004
Aislinn Ryan
17:31
Kenneth Cormier
15:22
2:09
San Diego
2003
Katelyn Kaltenbach
17:24
Matthew Withrow
14:55
2:29
San Diego
2002
Zoe Nelson
17:30
Chris Solinsky
14:40
2:50
San Diego
2001
Amber Trotter
16:24
Timothy Moore
14:50
1:34
Orlando
2000
Sara Bei
16:55
Dathan Ritzenhein
14:35
2:20
Orlando
1999
Victoria Chang
17:05
Dathan Ritzenhein
14:29
2:36
Orlando
1998
Erin Sullivan
17:35
Jorge Torres
15:17
2:18
Orlando
1997
Erin Sullivan
17:22
Abdirizak Mohamud
15:22
2:00
Orlando
1996
Kristen Gordon
17:34
Abdirizak Mohamud
15:21
2:13
San Diego
1995
Kim Mortensen
17:12
Abdul Alzindani
15:12
2:00
San Diego
1994
Julia Stamps
16:41
Matt Downin
14:58
1:43
San Diego
1993
Erin Davis
17:11
Adam Goucher
14:41
2:30
San Diego
1992
Amanda White
17:34
Brendan Heffernan
15:13
2:21
San Diego
1991
Liz Mueller
17:21
Corey Ihmels
15:03
2:18
San Diego
1990
Melody Fairchild
16:39
Louie Quintana
15:07
1:32
San Diego
1989
Melody Fairchild
17:05
Bryan Dameworth
14:49
2:16
San Diego
1988
Celeste Susnis
17:14
Brian Grosso
15:03
2:11
San Diego
1987
Kira Jorgensen
17:08
Robert Kennedy
14:59
2:09
San Diego
1986
Erin Keogh
16:55
Marc Davis
14:38
2:17
San Diego
1985
Erin Keogh
16:43
Reuben Reina
14:36
2:07
San Diego
1984
Cathy Schiro
16:48
Scott Fry
14:50
1:58
San Diego
1983
Janet Smith
16:43
Matt Giusto
14:54
1:49
San Diego
1982
Christine Curtin
16:58
Eric Reynolds
14:35
2:17
Orlando
1981
Connie Robinson
16:40
Charles Alexander
14:51
1:49
Orlando
1980
Ceci Hopp
17:12
Jay Marden
14:53
2:19
San Diego
1979
Ellen Lyons
17:28
Brent Steiner
15:05
2:23
San Diego
NXN Winners with Boy - Girl Time Difference
Year
Girl Winner
Time
Boy Winner
Time
DIFF
Ran First
2013
Alexa Efraimson
16:51
Taylor Kai Wilmot
15:00
1:51
Girls
2012
Sarah Baxter
19:17
Sam Wharton
17:06
2:09
Girls
2011
Sarah Baxter
17:38
Futsum Zeinasellaissie
15:03
2:35
Girls
2010
Rachel Johnson
18:19
Lukas Verzbicas
16:00
2:19
Boys
2009
Catherine Flood
17:48
Craig Lutz
15:10
2:38
Boys
2008
Chelsey Sveinsson
17:27
Connor Reed
15:14
2:13
Girls
2007
Madeline Morgan
18:55
Chris Derrick
15:40
3:15
Boys
2006
Ashley Higginson
19:19
Steve Murdock
16:27
2:52
Girls
2005
Betsy Bies
19:24
Kenny Klotz
16:26
2:58
Boys
2004
Ramsey Kavan
18:06
Sean McNamara
15:44
2:22
Boys
Difference in Girls minus Boys Winning Times
Problems:
(1) The obvious problem for NXN comparison is the course itself with the mud and deteriorating conditions .... Fortunately, the one race I want to compare is the 2013 race with Efraimson, Cranny and Baxter where the course condition was relatively the same for both boys and girls (the course was frozen).
(2) Direct comparison (on an absolute scale) really requires equal quality for both the winning boy and girl .... Quality is subjective ... Both races are national championship caliber events with national caliber runners determined by a qualifying process ... This really helps in equalizing potential "quality" between the winning boy and girl ... However, some runners really are at a "higher level" when comparing the boy's side to the girl's (or vice versa) ... At NXN, I might suggest Chris Derrick on the boy's side and Alexa Efraimson on the girl's side as examples ... At Footlocker, Dathan Ritzenhein and Edward Cheserek are examples ... the differences in winning times is one indication.
Comparing the 2013 NXN Girls Speed Ratings to Best Ever Speed Ratings: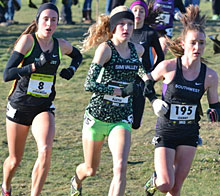 NXN 2013 - Speed Rating     Highest Girl Speed Ratings Ever 
  Alexa Efraimson   165      Amber Trotter      180  (2001)
  Elise Cranny      164      Melody Fairchild   178  (1990)
  Sarah Baxter      163      Julia Stamps       173  (1994)
                             Janet Smith        170  (1983)
                             Aisling Cuffe      170  (2010)
Some people have a hard time believing the discrepancy between the 2013 NXN speed ratings when compared to the best ever speed ratings shown above .... Let me state this directly - I have checked my 2013 NXN speed ratings on multiple occasions by multiple methods and they are correct ... I would not change either the girl's or boy's speed ratings from those originally posted.
As I challenged one coach ... exclude Efraimson, Cranny and Baxter from the evaluation and speed rate the race based on the other 195 girls (and maybe use some input from the speed of the 197 boys at NXN) ... Use that to determine the speed ratings of the top three girls ... That's the nature of speed ratings - How fast Efraimson, Cranny and Baxter ran is determined by how fast everybody else ran.
Evaluating the NXN Race ... Subjective opinion - Sarah Baxter was not quite as "sharp" during the 2013 cross country season as compared to her 2012 season ... The frozen course condition did not help the strength-running Baxter as did the mud in previous years ... The frozen course condition helped the speed advantage of Efraimson and Cranny ... The cold weather was not the best for the California girl ... Baxter did most of the front-running work (Efraimson got sucked along) ... But Baxter still equaled her season-best speed rating from Mt. Sac (where she won in 16:11) ... Efraimson and Cranny set speed rating PRs of 4 to 5 points ... Everything there is consistent with the posted NXN speed ratings.
Looking at the Winning Girl-Boy Time Differences .... Efraimson was 1:51 slower than NXN winner Kai Wilmot based on the rounded whole number times (technically it was 1:50.1) ... As can be seen in the Time Difference table above, several of the Footlocker girls have smaller time differences and those girls appear is the Highest Girl Speed Ratings table ... The "quality" of the 2013 boys was divided between Footlocker and NXN (that was not the case before NXN included individuals) ... The NXN winner, Kai Wilmot, is a very good runner and he had a season-best performance at NXN ... However, Footlocker winner Grant Fisher is considered by many to have been the top high school distance runner in the US ... and Footlocker runner-up (John Dressel) beat Kai Wilmot in four head-to-head races last October and November (including the WA State Meet) ... But as yet, none of those guys have approached the XC performance levels of the better Footlocker winners .... What I'm saying is this - that 1:51 time difference between Alexa Efraimson and Kai Wilmot should be a lot lower if the girl's race was really that fast in a historical sense ... What if Edward Cheserek or Dathan Ritzenhein had run in the boy's NXN race?? - I believe the boy's winning would have been significantly faster ... and the time difference between Efraimson and that boy's winner would be comparable to many of the typical Footlocker races.
Necessary Consideration ... Footlocker has an advantage over NXN with respect to achieving high speed ratings ... Footlocker is a small elite field assembled to effectively run a fast race on a real course with hills where the course conditions and weather are usually good ... Clearly that does not apply to Portland Meadows in December ... Multiple hills can help to "string" a field apart, and that helps the speed ratings of the top finishers ... Flat courses with a large of runners "might" do the opposite.
A Quick Look at Melody Fairchild and Amber Trotter
Melody Fairchild ... has my 2nd highest speed rating ever (178) ... Melody Fairchild won the 1990 Footlocker race by an amazing 59 seconds ... She was only 1:32 slower than the boy's winner (and he was 10 seconds ahead of 2nd place).
Amber Trotter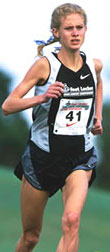 Amber Trotter has my highest girl speed rating rating ever (180 at Footlocker 2001).
She was undefeated in cross country during her senior year in 2001, including exceptional performances at Footlocker and Mt. Sac.
Amber Trotter ran for Ukiah high school in California.
After graduating from high school, she attended Middlebury College in Vermont (a Division 3 college) ... She basically disappeared from national running at that point.
The story of her physical problems and life after high school are available at this Internet link: http://thrombo.info/wordpress/catching-up-finally-with-amber-trotter/
At Footlocker 2001 in Orlando, Amber Trotter broke Sara Bei's (now Sara Hall, married to Ryan Hall) course record by 31 seconds ... she won the race by 40 seconds ... she beat 4th-place Molly Huddle by 55 seconds ... she was only 1:34 slower than boy's winner Timothy Moore ... Chris Solinsky finished 3rd in the boy's race only 2 seconds behind the winner (so Amber Trotter was only 1:32 slower than Chris Solinsky).
The top boy XC runner in California in 2001 was Yong-Sung Leal ... He was the fastest boy at Mt. Sac and the fastest boy at the California State Meet ... He finished a very good 7th at Footlocker Nationals (only 13 seconds behind the winner) ... Here is a 2001 time difference comparison for Amber Trotter and Yong-Sung Leal:
 
                        Trotter    YS Leal   Diff
 Footlocker Nationals    16:24      15:03    1:21 
 Footlocker West         17:14      15:33    1:41 
 CA State Meet           17:01      15:17    1:44 
 Mt. Sac Invite          16:16      14:43    1:33 
The biggest difference was the CA State Meet (and it was only 1:44) ... Amber Trotter was the fastest girl at the CA State Meet by 45 seconds ... Yong-Sung Leal had his best race at Footlocker Nationals (obviously a very good runner) ... Amber Trotter was only 1:21 behind him at Footlocker Nationals (20+ seconds closer than previous meets) which is one indication of the exceptionally fast race run by Amber Trotter.
At NXN 2013, Alexa Efraimson was 1:51 behind winner Kai Wilmot (both from WA State) ... My numbers say Yong-Sung Leal is roughly equal in speed to Kai Wilmot ... So Amber Trotter was 30 seconds faster than Alexa Efraimson based on time difference with the boys.
Some California observers give me "grief" concerning Sarah Baxter and her 16:00 record at Mt. Sac in 2012 which they think is the greatest high school XC performance of all-time ... Sarah Baxter broke Amber Trotter's record of 16:16 at Mt. Sac ... Excluding any discussion about speed ratings

, here are some quick stats concerning Mt. Sac in 2001, 2012 and 2013:
 
      Mt. Sac             Mt. Sac
       GIRLS               BOYS

       2013                2013
   4 under 17:00       13 under 15:00
  25 under 18:00       42  at   15:25 (or faster)

       2012                2012
   4 under 17:00       14 under 15:00
  34 under 18:00       64  at   15:25 (or faster)

       2001                2001
   1 under 17:00        5 under 15:00
   8 under 18:00       23  at   15:25 (or faster)				
Not conclusive by these numbers alone, but is sure looks like the Mt. Sac course was running significantly slower in 2001 compared to recent years

.
Sarah Baxter was the fastest girl in 2012 by 52 seconds ... Amber Trotter was the fastest girl in 2001 by 60 seconds.
34 Girls ran faster than 18:00 in 2012 ... 8 Girls ran faster than 18:00 in 2001 ... The 9th-fastest girl in 2001 ran 18:01 and that 9th-fastest girl was Shannon Rowbury ... That's right, the 9th-fastest Mt. Sac girl in 2001 was Shannon Rowbury and Amber Trotter ran 1:45 faster .... Amber Trotter was exceptional during XC 2001.
Enough said for now .... Everything here is just my opinion

.